If the chilly temperatures are putting you in the mood for a wintery outing, ice skating is a great option. These Washington DC and Northern Virginia ice skating rinks offer healthy winter fun for every age, whether you prefer to skate indoors or out. Each ice skating destination offers smooth ice, happy music, and nearby fun, so we suggest you visit them all.
Outdoor Northern Virginia Ice Skating Rinks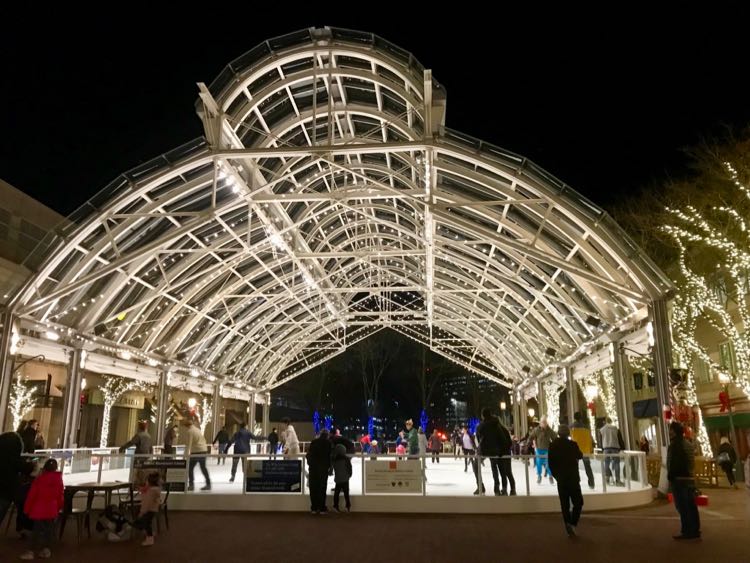 Reston Town Center – This open-air pavilion plays host to summer concerts when the weather is warm, but as soon as there's a chill in the air, the ice goes down. The pavilion is beautifully lit and is a perfect addition to the great shopping and dining of Reston Town Center.  https://www.restontowncenter.com/skating/
Pentagon Row Ice Skating Rink – Arlington.  Largest outdoor ice rink in Northern Virginia and second largest in the state  http://pentagonrowskating.com/
Indoor Northern Virginia Ice Skating Rinks
When it's just too cold outside, or you're looking to cool down during the warmer months, these indoor Northern Virginia ice skating rinks are the place to go to try off your skills on skates.
Skatequest in Reston is a fun option.  The rink is large and there are food options nearby in Plaza America.
Fairfax Ice Arena, Fairfax – This was the first year round ice skating rink in the DC area.  They have been welcoming the public for over 50 years and have public skate times every day.
https://www.fairfaxicearena.com/
Med Star Capitals Iceplex, Arlington – Feel like a pro when you skate around where the Washington Capitals practice.
https://www.medstarcapitalsiceplex.com/
Seasonal Outdoor Washington DC Ice Skating Rinks
National Sculpture Garden – You'll find a fun alternative to Northern Virginia ice skating at the Washington DC National Sculpture Garden. During the day you can skate, then visit the large scale sculptures by major artists that surround the rink.
https://www.nga.gov/visit/ice-rink.html
Washington Harbour Rink – If you want to overlook the Potomac and skate at the largest outdoor venue, the ice skating rink in the National Harbour is the one to pick.
https://www.thewashingtonharbour.com/ice-skating
Canal Park Ice Skating Rink – Another fun DC option is the Figure 8 loop in Canal Park
http://canalparkiceskating.com/index.html
Have fun – and let us know where your favorite place to spin around on the ice is!